The Pan Massachusetts Challenge was begun in 1980 by Billy Starr. Along with a few dozen friends, he wanted to do something to deal with the loss of his mother to cancer. That year, he and his friends raised over $10,000 in the first PMC: a 2 day cycling ride across much of Massachusetts. Since then, the PMC has become the largest single sporting event fund raiser in the country.

Last year marked the 31st year of the PMC. The first weekend in August some 5,200 cyclists rode 8 different routes over two days, the longest - and the favorite - being 190 miles from Sturbridge to Provincetown at the tip of Cape Cod. During the last three years alone, PMC riders raised more than $100,000,000 for cancer research and treatment at the internationally renowned Dana-Farber Cancer Institute in Boston; and 100 cents of every dollar raised by riders went to the DFCI.

Let me offer two examples of the difference the PMC has made:

In 2004, The President of Dana-Farber spoke at the 25th PMC opening night ceremonies. He told the audience two statistics that have stuck with me ever since. When the PMC began, the survival rate from childhood leukemia was only about 10%. By 2004, the survival rate had increased to 80 - 90%, with much of the ground-breaking research having been done at Dana-Farber, thanks to the more than $100 million in donations from 1980 - 2004 from the PMC.

The $35 million raised in 2009 matches the amount dedicated to a new research being launched at the DFCI which will utilize knowledge gained from the genome project to customize treatments for each person's specific type of cancer.

With the 2011 PMC, the cumulative total raised by PMC riders reached a third of a billion dollars!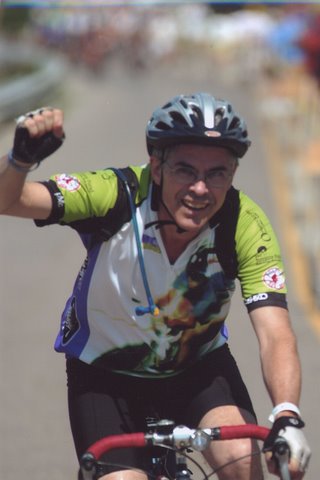 Day #2, 2006, the finish line at mile 192 in Provincetown, MA
---
Want a few more PMC pictures? [Click here]
---
I lost one of my sisters, Arlene, in 2002 after a four year dance with breast cancer. Now my brother, Bob, and I ride each year. As one rider put it, "I ride because I can for those who can't."
With this year's PMC, the cumulative total that Bob and I will have received in donations from family, friends and colleagues will surpass $100,000. My sincere thanks to all of you who have helped so far! Those wishing to make a tax deductible donation for my ride can use this PMC link: http://www.pmc.org/egifts/ and use my eGift ID: PS0099 (zero zero 9 9) Donations are accepted all year long.
Thank you!